Not In Kansas Anymore
Call for Special Pricing! Ask about our FUN Pass!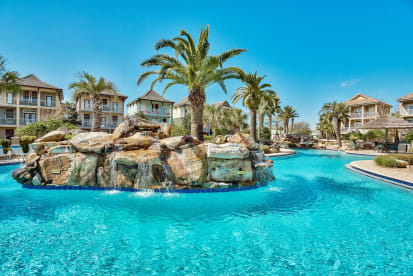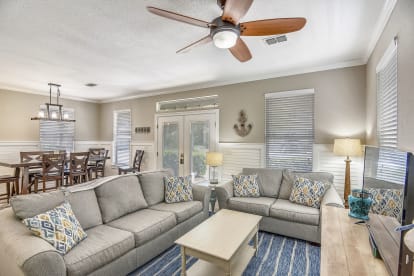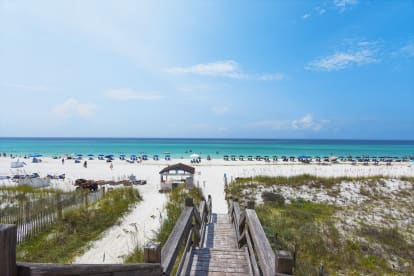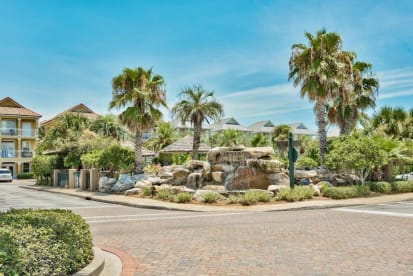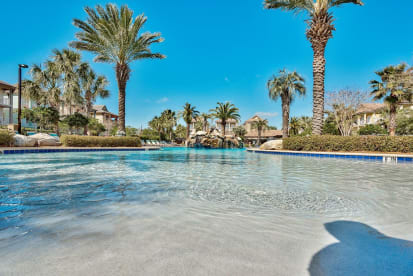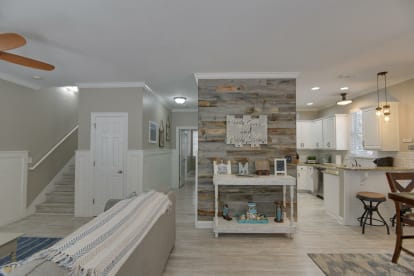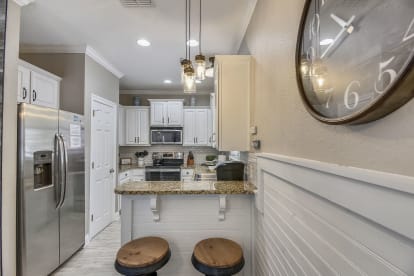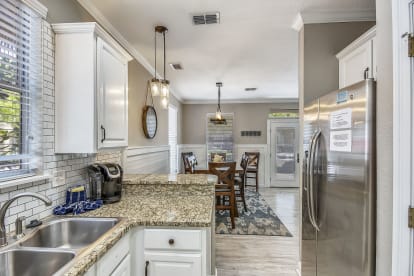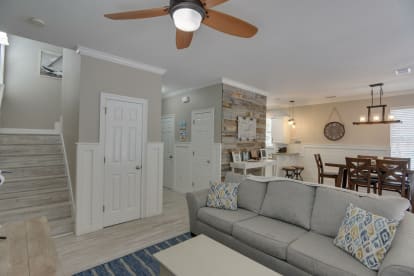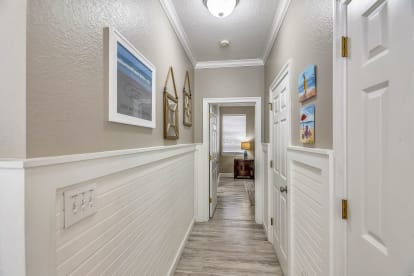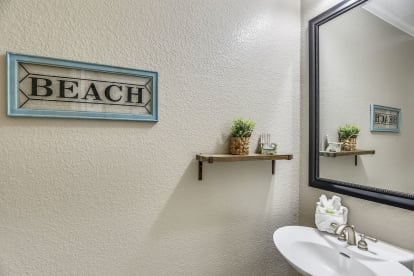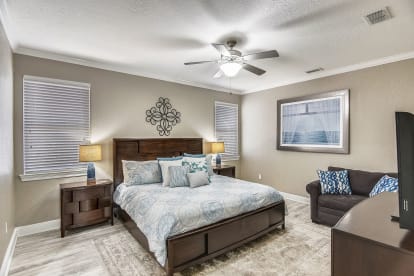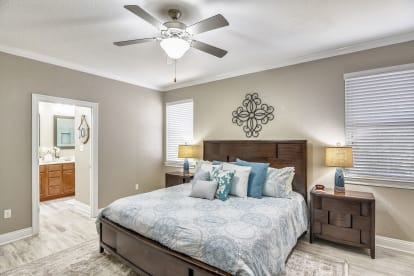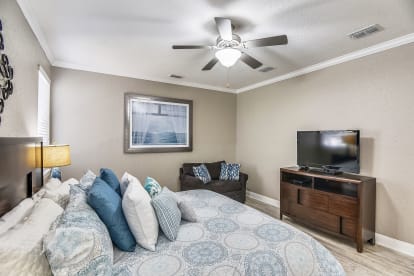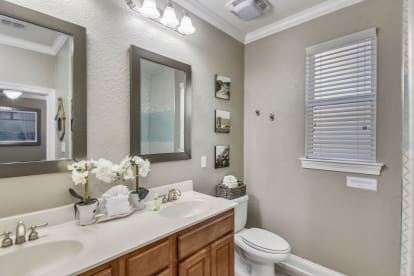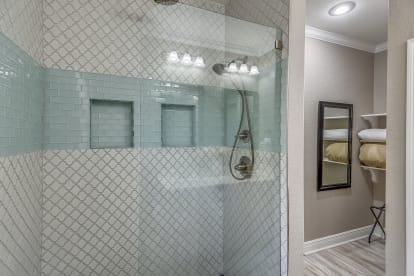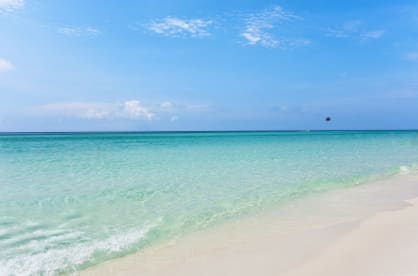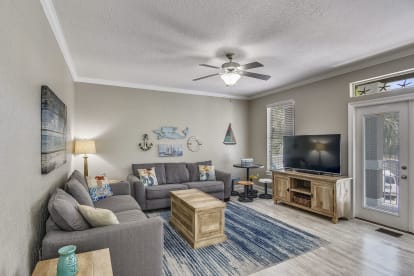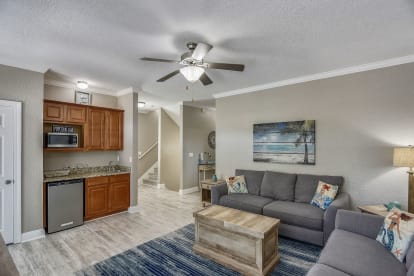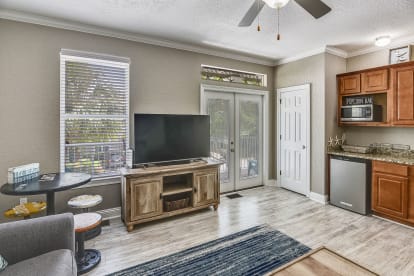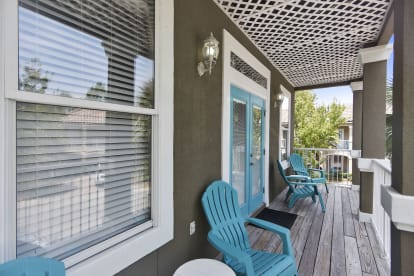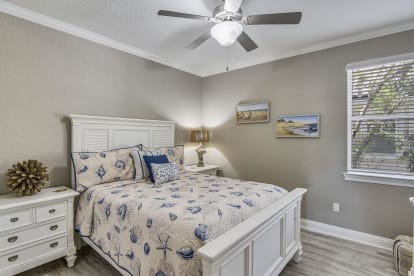 ---

My ECBYO listing
Description
Welcome to Not In Kansas Anymore! Our stunning 6 bedroom, 3.5 bathroom home boasts 2600 sqft and offers sleeping accommodations for 16 people!  Centrally located in the heart of Destin, at the popular gated community Villages of Crystal Beach, Not In Kansas Anymore is a delightful vacation home with plenty of space for your entire family!  The Villages offers one of the most amazing pools in Destin.  Just steps from our front door, you can enjoy a guests-only Lagoon Pool with a zero-entry area, waterfalls, hot tub, tables with umbrellas, and lounge chairs. The tiki-hut adjacent to the pool offers an outdoor TV at a big bar with lots of seating where you can serve yourself.  Surround sound music plays all day during the summer months!  You will absolutely love this home! 



When you arrive at Not In Kansas Anymore, you will be greeted by a large corner lot, relaxing covered front porch and a balcony on each level of the home.  Our home includes parking for 2 large vehicles, or 3 small economy cars.  The exterior main level includes a covered front porch with seating and a private gas grill. Make your way into the home and you will see the gorgeous living room with a sofa, love-seat and a large Roku flat screen TV.  Directly adjacent, you will find the dining room that seats 8, with 2 bar stools at the breakfast bar.  The newly updated kitchen features gorgeous tile back-splash, granite counter-tops and stainless-steel appliances.  The kitchen is fully stocked with everything you need to prepare your favorite meals! 



Down the hall you will find the lovely master bedroom with a king bed, over-sized pull-out chair, Roku flat screen TV and a private bathroom with a custom built tile shower and double vanity.  A pack-n-play for little ones is offered during your stay and located in the master bedroom walk-in closet.  There is also a powder room located on the first floor for your Guests. 



Make your way to the second floor and you will be greeted by an additional living room making this a perfect hangout for the children and teens with 2 sofas, a Roku flat screen TV, a pub table with stools, a wet bar, microwave and access to the front porch.  The hallway features a full size bathroom with a tub/shower combination and an oversized vanity.  The first guest bedroom offers a queen bed, 2 nightstands, a dresser and a Roku flat screen TV.  The second guest bedroom includes a Roku flat screen TV, and 2 sets of bunks, one with twin-over-full and the other with twin-over-twin.  The walk-in laundry room with an upgraded washer/dryer is also located on the second floor. 



Last but not least, is the third floor which includes 2 gorgeous queen bedrooms with nightstands and Roku flat screen TV's.  Both of these bedrooms offer access to the balcony, perfect for enjoying your morning coffee!  Just down the hall, don't forget about the separate bunk room that includes a twin-over-full and a Roku TV.  These bedrooms share a full size bathroom with a tub/shower combination.  



The Villages of Crystal Beach offers a FREE community Trolley to transport you to the beach during Spring Break and Summer thru Labor Day.  Speaking of the Beach, our Home comes with tons of BEACH GEAR which includes, a foldable picnic table, Beach Chairs, Beach Umbrella, Beach Cart, and a Cooler! 



At Not In Kansas Anymore, you are near tons of shopping, dining and entertainment.  Destin Commons is right across the Highway, where you'll find numerous restaurants, Shopping, Movies and Uncle Bucks upscale Bowling experience and Whole Foods.  Just south of the community is the Scenic beach road that offers a large sidewalk great for walking, jogging, and biking with incredible Gulf views!



If you've never been to Destin, here is your chance to change the way you feel about a beach vacation.  We are known as the Luckiest fishing Village in the world, world class shopping, Dining, Pristine Golf Courses and Tennis Clubs.  Fun for Kids and tons of Nightlife with Live Music.



One of the most popular activities in Destin is Boating at Crab Island.  The water is crystal Clear and shallow enough to anchor your boat and jump out and play in the water, meeting tons of fun people on vacation and local residents.  There is even a floating restaurant serving up snacks and sandwiches.  In the summer you'll even find a pizza boat and ice cream boats floating by. Near Crab Island is where you can rent Jet Ski's, boats, fishing charters and Parasailing.  Never a dull moment in Destin!



This property is stocked with a Starter Kit to get you through your first 24 hours. This includes two kitchen trash can liners, two dishwashing packets, mini shampoo, conditioner, lotion, one roll of toilet paper per bathroom, and one roll of paper towels. We supply bath towels, washcloths, and hand towels. We do not supply beach towels, laundry detergent, seasonings/spices, or liquid dishwashing detergent. Guests will need to replenish supplies as needed.



 *Please note that due to the health and severe allergies of the host we cannot accept animals of any kind in this unit.
To top it off, as our valued guest, this rental includes

"ONE FREE PASS, PER ACTIVITY, PER DAY" to the following:

 
**Forever Memories Fun Pass** - Explorer Package
November – February Amenities:

• A Round of Golf at select courses

• Fishing Adventures

• Adventure Zone at Baytowne Wharf

• Urban Air Adventure Park



March – October Amenities:

• A Round of Golf at select courses

• Fishing Adventures

• Adventure Zone at Baytowne Wharf

• Urban Air Adventure Park

• Snorkeling (seasonal)

• Sea Blaster Dolphin Cruise

• Big Kahuna Water Park (seasonal)



This is our way to say Thank You for staying with us at Forever Vacation Rentals!

**All activities are subject to change by season, weather and availability**

**Monthly rentals are specifically excluded from participation in the Program**

 
From/To
Nightly
Weekend
Weekly
Monthly
Min Nights
12/01/2023
12/20/2023
$263
--
--
--
3
12/21/2023
12/21/2023
$364
--
--
--
3
12/22/2023
12/25/2023
$372
--
--
--
3
12/26/2023
12/28/2023
$297
--
--
--
3
12/29/2023
01/01/2024
$372
--
--
--
3
01/02/2024
01/05/2024
$297
--
--
--
3
01/06/2024
03/01/2024
$313
--
--
--
3
03/02/2024
03/22/2024
$487
--
--
--
3
03/23/2024
03/27/2024
$599
--
--
--
3
03/28/2024
04/01/2024
$689
--
--
--
3
04/02/2024
04/05/2024
$599
--
--
--
3
04/06/2024
05/17/2024
$509
--
--
--
3
05/18/2024
05/24/2024
$899
--
--
--
3
05/25/2024
06/07/2024
$915
--
--
--
3
06/08/2024
07/19/2024
$989
--
--
--
3
07/20/2024
08/09/2024
$909
--
--
--
3
08/10/2024
09/13/2024
$719
--
--
--
3
Peace of Mind Protection:
$99.00
Credit Card Processing Fee:
3%
(Optional)
Additional Information​
Credit Card Processing Fee: You can only pay with a check 30 days prior to your arrival. 
Resort Fee: Resort Fee is per day. 
Impeccably Maintained


This home is impeccably well managed and maintained. Clean, organized and beautifully decorated. They provided beach chairs towels and toys so no need to bring a bunch of things with you. We had an alarm beeping (dying batteries) and the maintenance crew headed over and changed it out within 30 minutes or so from my call. With it being a little cooler for our stay we weren't able to use the pool, but we did a walk through and it is huge and would love to try it our on another trip. We will be recommending this home to our friends and family. Thanks so much!!
11/23/2019
Large Family Vacation

House was great size for our 14 family members. We could all gather or have our own space when needed. It's nicely decorated, well stocked, and has comfortable beds. We spent a lot of time at the large pool, was awesome! Beach is an easy 12 minute walk, and home is just off the main road of businesses. We'd stay again. Thanks!
03/15/2020
Vacation 2020
It was a very nice home and we loved the ocean! The house was beautiful!
07/08/2020
Great Place
Great location! Great house! Great vacation!
07/10/2020
Great Team
Jilenna is quick to respond, and provided good support, when needed.
08/05/2020
We did not have a single issue while we visited!
10/10 would recommend to families looking for a great place to stay on vacation. Our entire family of 16, including children 8 months-13 years old, was comfortable in this home. It was large, clean, nicely decorated, and had comfortable beds. The pool was amazing, and the beach was only a 10 minute walk. We did not have a single issue while we visited!
08/10/2020
Amazing

Jilenna is an amazing host and has a beautiful home. The place feels at home away from home. If you are ever around that area and need a spacious place to stay look no more she's the person you want to work with.
10/13/2020
Just awesome!

I loved the place... Really had enjoyed our stay!! Really great location right in-between.. shopping and the beach!!!!! Just awesome
01/12/2021
Awesome Stay

We had a great short trip at the holidays! The weather turned out great in the 60s. The house was great for our family. We only had 7 people and had plenty of space. We used the few living rooms to hang out and play games. We cooked dinner one night in. They did a good job communicating what would and wouldn't be available in the kitchen. The grill worked out perfect. We were only a 10 minute walk to the beach. The community pool was heated too. The property owners had a lot of communications about cooking, beach, amenities, activities, etc.
01/15/2021
Location is a plus!

My family and I enjoyed staying at your property. The house was clean and spacious. The location is a plus! Easily accessible to the beach, restaurants and shopping.
02/18/2021
Loved!

The house was perfect for our family vacation, the location to the beach is around a 10 minute walk but we enjoyed taking our daily strolls over there. The house was equipped with everything we needed kitchen/towels/rokus, etc. Definitely would return!
08/13/2021
Highly Recommend

Great and wonderful hospitality
08/13/2021
Close to Beach!

Awesome place to stay not far from the beach. House was equipped with everything you need. Jilenna was always available to answer our questions which made our stay awesome and fun. I highly recommend staying here and will for sure be returning.
01/19/2022
Thanksgiving family getaway

It was effortless.
02/11/2022
Will not disappoint

We really enjoyed our stay here! Thirteen women for our Annual Girls Vacay and it did not disappoint. The house looked exactly like the pictures & the personal touches were super cute. There is a shuttle that is really convenient but most days we just walked to the beach. The pool area was really nice too! The community is very clean and close to everything you will need. Everyone was very nice and the hosts was very responsive to questions. BOOK DIRECT through Forever Vacation Rentals - you will save money :-) Thank you for an enjoyable stay!
02/11/2022
Loved the location, great host and will return

Such a great spot! The house was very spacious and clean and had everything that we needed. The area felt very safe as well. The pool was beautiful and the house is also a quick walk to the beach with the option to take a shuttle as well. Close to downtown as well as a bunch of shops, restaurants, and grocery stores at Destin Commons. Check in and check out we're both seamless and Jilenna was a great host! She responded quickly to any questions I had and made the whole experience enjoyable. Would definitely stay here again!
04/25/2022
Family Vacation

I would say that this was a really nice place to stay, very well stocked with linen. The kitchen was a little small but we made it work! We had 12 adults 2 children and 3 under age of 2 and had plenty of room!
07/28/2022
Thanks for our stay!

Really nice and fun place for a large group. Great location to everywhere and the house was great!
08/29/2022
Great place. Great location

This place was great. Close to everything. Outlets and beach. No more than 15 min walk to the beach.
10/03/2022
The house is big and nice

We all enjoy staying at the house for the weekend.
11/14/2022
​Fantastic!

Fantastic!
Only 1 major issue - one of the smoke detectors started chirping in the middle of the night. Called the emergency number and maintenance helped immediately!
05/20/2023
Thank you for an awesome time!!

This place was absolutely perfect, spotless clean and organized!! The host was extremely responsive if I had any questions and information was communicated clearly!!
06/11/2023
Very clean!

The place was great. It looked exactly like the pictures and was very clean. The area was also private and peaceful which we liked a lot.
06/11/2023
Perfection!

We had a group of 16 ranging in ages from 8 to 68. The house was perfect.
07/25/2023
Awesome Home!

Overall a great place to stay, close to the beach, and a nice neighborhood! We had plenty of space for our group of 9.
08/17/2023
Highly recommend!

Our group of 14 had plenty of space to stretch out. It was clean as well as beautifully decorated. We felt cozy and at home. Walking distance to the beach and close proximity to the pool. Fantastic pool! Would rent again and recommend to friends!
04/05/2023
Spring Break 2023

Our family thoroughly enjoyed our time at your beautiful home. Plenty of sleeping space and the balconies were perfect for relaxing. Thanks for the hospitality! - The Morgan's
04/02/2023
Entertainment
DVD player
Television
DVD
Laptop Friendly
Satellite or Cable
Amenities
Air Conditioning
Dryer
Heating
Parking
Washer
Cable/satellite TV
Fire Extinguisher
Hair Dryer
Internet
Internet Access
Iron
Iron Board
Keypad
Linens
Linens provided
Living Room
Parking space
Self Check-In
Towels
Towels provided
TV
Washing machine
First Aid Kit
Hangers
Smartlock
Linen provided
Free Wifi
Bed Linens
Extra Pillows And Blankets
Outdoor Lighting
Pool/Spa
Communal Pool
Hot Tub
Jacuzzi/hot tub
Kitchen and Dining
Kitchen
Coffee Maker
Dishes Utensils
Dishwasher
Microwave
Oven
Refrigerator
Stove
Toaster
Freezer
Fridge
BBQ
Kettle
Suitability
Children Welcome
Free Parking
Minimum Age Limit
Pets Not Allowed
Smoking Not Allowed
Ceiling fans
Pack n Play
Central heating
Air Conditioning
Decked area
Hot Water
Private Living Room
Themes
Family
Romantic
Adventure
Budget
Luxury
Leisure
Boating
Bowling
Miniature Golf
Outlet Shopping
Paddle Boating
Scenic Drives
Shelling
Shopping
Sight Seeing
Walking
Water Sports
Sports and Adventure
Deepsea Fishing
Fishing
Fishing nearby
Fishing Surf
Golf
Golf course within 30 min drive
Jet Skiing
Parasailing
Pier Fishing
Sailing
Snorkeling
Surfing
Swimming
Watersports nearby
Wind Surfing
Local Features
ATM Bank
Groceries
Hospital
Massage Therapist
Medical Services
Babysitting
Outdoor
Balcony
Grill
Balcony/Terrace
Patio Or Balcony
Changeover/Arrival Day
Check in 4pm/Check out 10am
Check in 4pm CST / Check out 10am CST
Car
Not Necessary
Recommended
Family Friendly Amenities
Safety Features
Fire Extinguisher
First Aid Kit
Smoke Detector
Outdoor Lighting
Deadbolt Lock